The Fall
Some details are unknown at this point and some are unknowable. In the early morning of Sunday, May 30 Nick was at a party in the Chelsea neighborhood of Manhattan. Somehow he fell from a roof top or wall or balcony. He fell 20 feet or so and landed wedged between a metal fence and some sort of large metal box, like part of an air system for a building. A vertical bar at the top of the fence pierced the back of Nick's skull and penetrated a couple centimeters into his brain. He was still conscious enough to start yelling. No one seems to have actually seen him fall. The site was up somewhere not visible from much of anywhere.
Rescue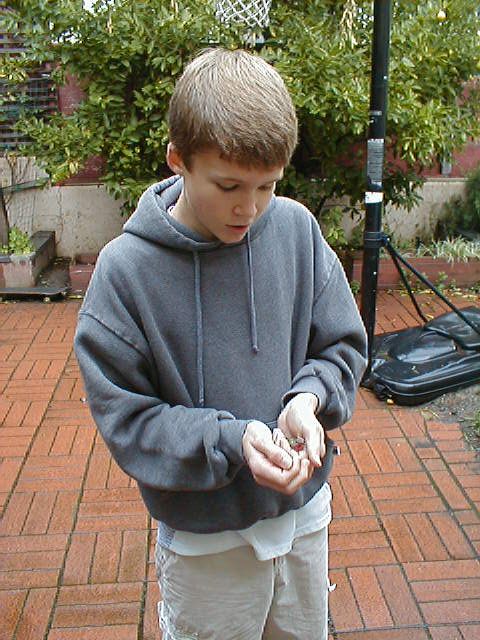 A neighbor heard the fall and heard Nick yelling afterward. He and some others who heard it also called 911. He showed police how to get up there. They called the fire department for help. The NYFD rescue guys cut out a piece of the fence still in Nick's head. It took them a couple hours. Then they got him onto a stiff flat board and carried him in through some apartment window, down through the building, and to the ambulance. When they got to Bellview Hospital a team of surgeons got the fence out, cleaned out the wound digging out fragments of skull bone, put in a piece of titanium to help patch the hole, and sewed him up. Sounds simple, but this took hours and was very delicate. The spike missed a major vein and a major artery by scant millimeters. The FD guys are astounded that he is alive. The surgeons are also amazed at his "luck". The cops and FD think Nick should start buying lottery tickets.
Heroes are all around us. The neighbor who raised the alarm, and convinced the cops to follow him. The cops for checking his story, even though it must have seemed odd, and for finding him. The FD and EMTs for doing the nearly impossible, cutting him loose and not trying to pull him off. They properly left that to the next bunch of heros at the trauma center and in surgery. His aunts and girlfriend who rushed to his side. The nurses and many others at the hospital. Nobody panicked. So many making such crucial decisions and acting, getting things done, being professional in the face of a horrifying accident.
Recovery
This has been so hard. He has been in enormous pain for a week. He has been getting great care, but they can't just "knock him out". He needs to be conscious enough to be evaluated. We cannot "fly blind". This means he has to deal with a lot of pain. He's fighting like some kind of super hero. What a beautiful, strong, man. He is struggling to get control of his left side. Progress we are told is very good although it feels slow to us. Today, Thursday June 3 he ate for the first time. He had a smoothie and a Mango. How California is that? Talking to his brothers by phone shortly after surgery he had said "I had a spike in my head. How metal is that?" If you can believe it, he has managed to joke from time to time through all this. So although he lost some brain tissue, he has not lost his sense of humor. His personality seems intact. His speech is fine. He does not have any other injuries really. There's a bruise on his leg and some scratches on the back of his right hand. No other broken bones or anything. The part of his brain that was injured handles vision to his left. The doctors are optimistic about his recovering the use of his left arm and leg. As the brain heals and the swelling recedes he should improve. He might even get back some vision on his left side and he can see to his right and in front. Still he has a long road ahead. Rehab starts soon, maybe tomorrow.