Cary Griffin
1953 - 2008
I met Cary in 1983 when he joined the Banconnect project at Bank of America as a technical writer. We were working in the Embarcadero Center in San Francisco. It quickly became clear that this was an extraordinary man. He was smarter than the programmers, more organized than management, and more social than the marketing folks.
Cary and I both lived in Berkeley and would sometimes commute together. We started jogging together at lunchtime along the Embarcadero. One time my sister came to visit and she was in the back seat as we drove home over the bay bridge. After listening to us for a while she said that she understood why I liked Cary so much. She said we had the same sense of humor. One time after I came back from vacation I found a stack of papers, books, tapes, etc. ludicrously stacked in my in box almost to the ceiling. Cary had conspired with some others to make feel missed.
Humor wasn't the only reason though. His outlook, commentary and advice really seemed spot on. Often he would invite me over to his house for a beer after our commute home. It was also a lot of fun to go hear Cary play drums with several different groups. One was a jazz trio with Sax player Dave Lefevbre. Years later Dave would teach sax to my son Alec.
In 1988 Cary and Becky came to Emily's and my wedding. Quaker ceremonies don't include a best man, but Cary was the best friend of mine there.
Some months later we ran into Dave L. on the Cal campus. He was about to get married and feeling a little nervous. All his friends were telling him about how hard marriage was. Cary immediately piped up, "You've been talking to the wrong people. You should be talking to guys like us." He explained that there were many folks very happy to be married. Dave perked up as we talked about how good married life was and why.
Just a few days before my fortieth birthday I was laid off. Cary and I had been riding bikes through the Berkeley hills and had scheduled to go on the next Saturday. I was feeling pretty down and not really up for the ride. Cary, however, convinced me to go anyway and he cheered me up considerably as we pedaled up to Tilden Park. As we came around a bend he pulled into a picnic area. There waiting was a surprise party for me. Cary and Emily had been plotting and pulled off a great surprise with great timing.
Internet Pioneer
In the early nineties I took a job for the Electric Power Research Institute (EPRI) and built their first internet system. Thanks Randy Kahn for recommending me. Cary joined the effort upon my recommendation. He, in turn, recommended Greg Boudreaux. After some months contributing to EPRI they built a speculative web server for First Interstate Bank. They showed it to Randy Kahn who got more funding to make FIB one of the first banks in the world wide web. Randy and Greg recall ...
Cary had wrangled an old Sun workstation and put it in his apple shed next to his house out in Sepastopol. Well, actually, near Sepastopol. It was quite the remote operation. He signed up for some dial up service from far away (Marin I think), put up a web browser and some pages describing First Interstate Bank, and served web pages to the world out of his "garage".
Cary's wife Becky Christiansen recalls a stormy night pouring gasoline into a portable generator. Cary had rented the generator when the weather turned ugly. Sure enough the power went out and they fired up the generator which started running low on gas. Becky and Cary kept FIB up on the web that night, but it was touch and go.
Boys Night Out
Left to right: Randy Kahn, Bob Frost, Cary Griffin, Greg Boudreaux, Dave Suurballe, and Eric Blossom. Not pictured: Blair Helsing. Randy sent me this photo. The photographer might have been Blair or a waiter maybe.
For decades Cary put up with this group of colleagues for Boys Night Out. This generally included dinner and drinks and the occasional movie once or twice a year. It was always fun and more fun when Cary was there.
Randy recalls a BNO prank on Greg:
One year, at our annual Christmas time gathering, Greg was AWOL in London. After a few drinks we (Cary?) came up with the great idea of teleconferencing in our friend across the Atlantic. Undeterred by the fact that it was the middle of the night in London, we joined in on a cellphone (Cary's?) to wish our buddy all good cheer. Understandably, since we roused him from bed, Greg was less than thrilled with our call. I remember Cary trying to play it straight--and then laughing uproariously. Needless to say, we never tried this again, and I'm not sure Greg ever got over it, but I will always remember the sparkle in Cary's eyes at this practical joke on a good friend.
Greg adds:
Yes, I can add a little color to this one. The first call probably came at around one AM. We lived in a 4 bedroom flat, with three telephone extensions -- these phones rang extremely loudly. And, of course, we had a house full of guests trying to sleep. I remember that you guys put the poor waiter on the line to tell me what you were ordering, so I could help you choose entrees. I hung up. I guess it was around three AM when you were trying to settle on the dessert -- Suurb was on this time, explaining the options ("...should we go with the tiramisu, or the Baked Alaska?").

Later that day, I was in the supermarket, probably around three AM your time -- I though about calling you back to ask if I should get the whole milk or the two percent. But I'd only get one of you at a time, not quite the same appeal.
Music
Cary played drums with quite a few people over the years. Here are some of them.
Tributes
Some Photos

Sep 3 1988 - Cary with Johanna on his knee at my wedding to Emily. Sister Dayna is on the right.

Sep 3 1988 - Cary and my father at my side after the wedding.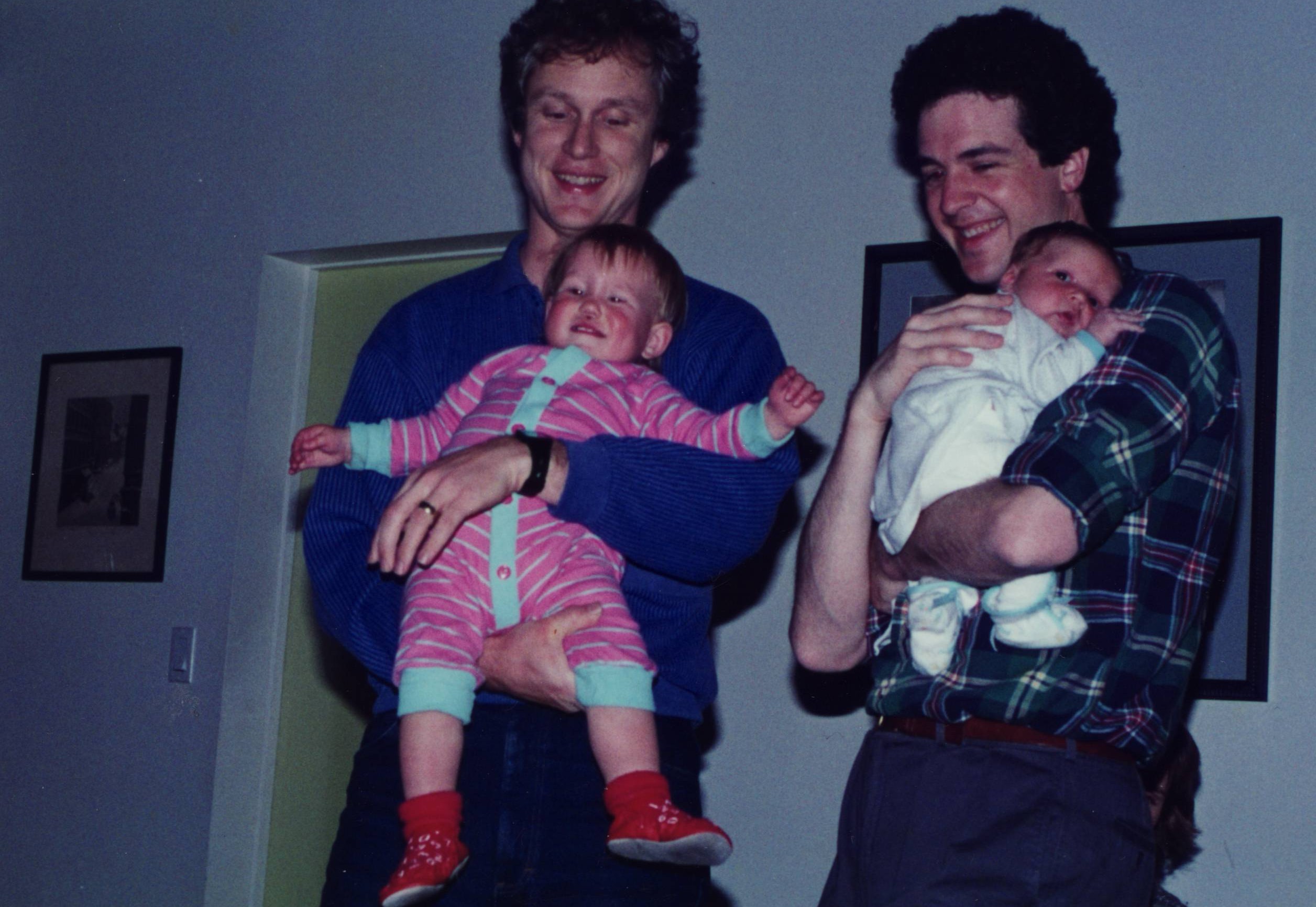 Mar 1989 - Me with Johanna and Cary with my one month old first son Nick.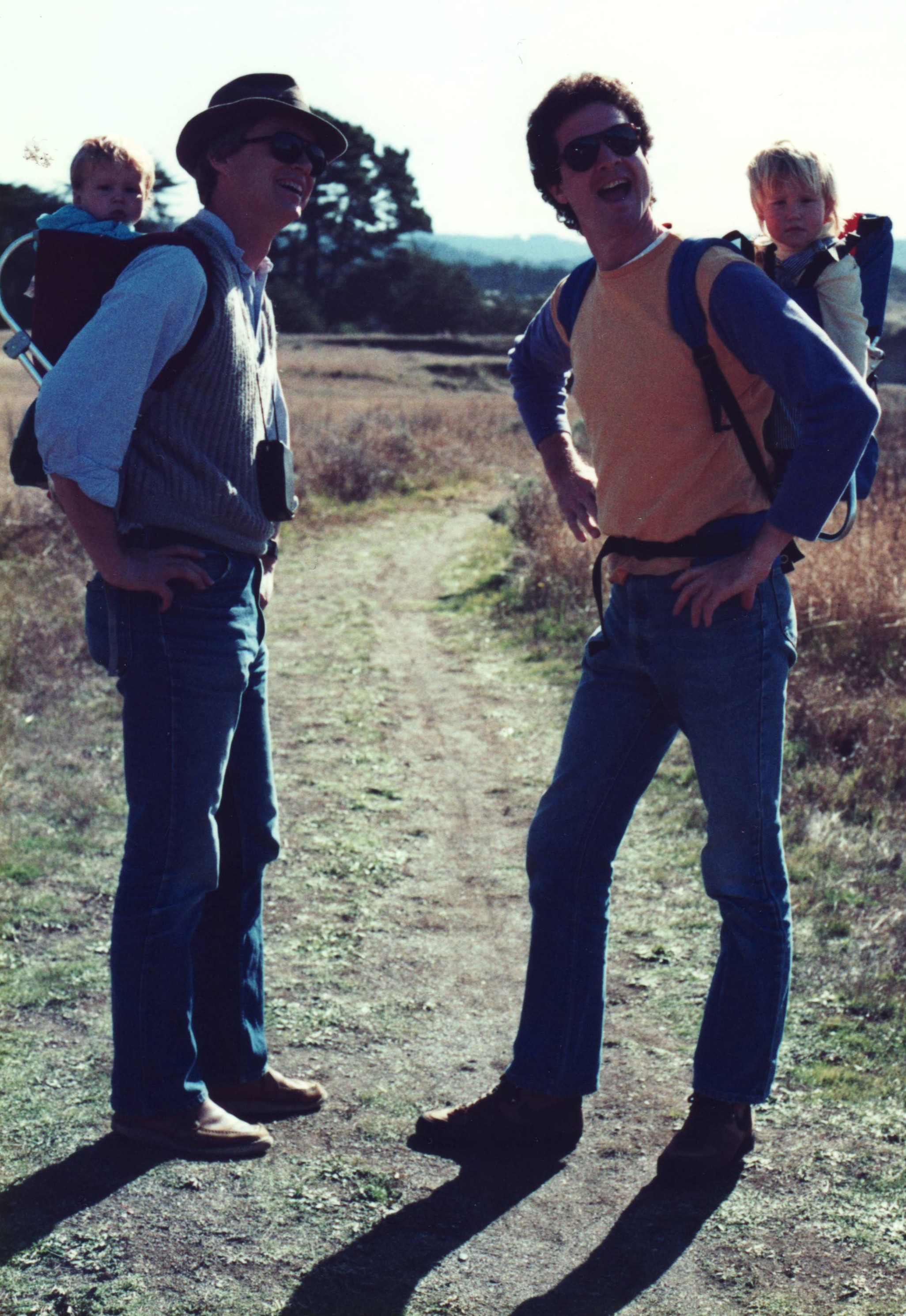 Oct 1989 - Cary and I looking sporting for our wives at Sea Ranch.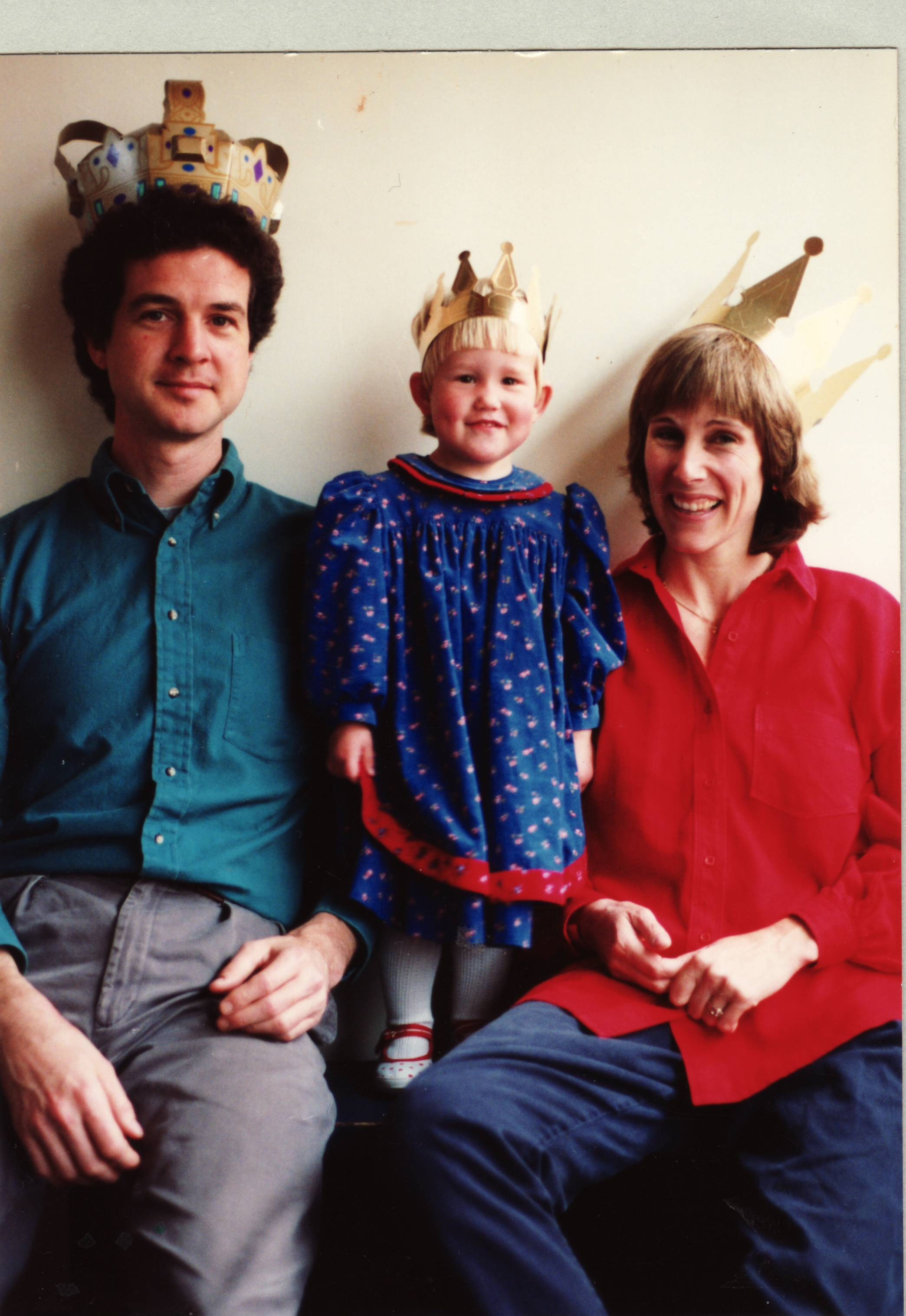 Dec 1989 - Cary, Johanna, and Becky, three kings for their Christmas card photo.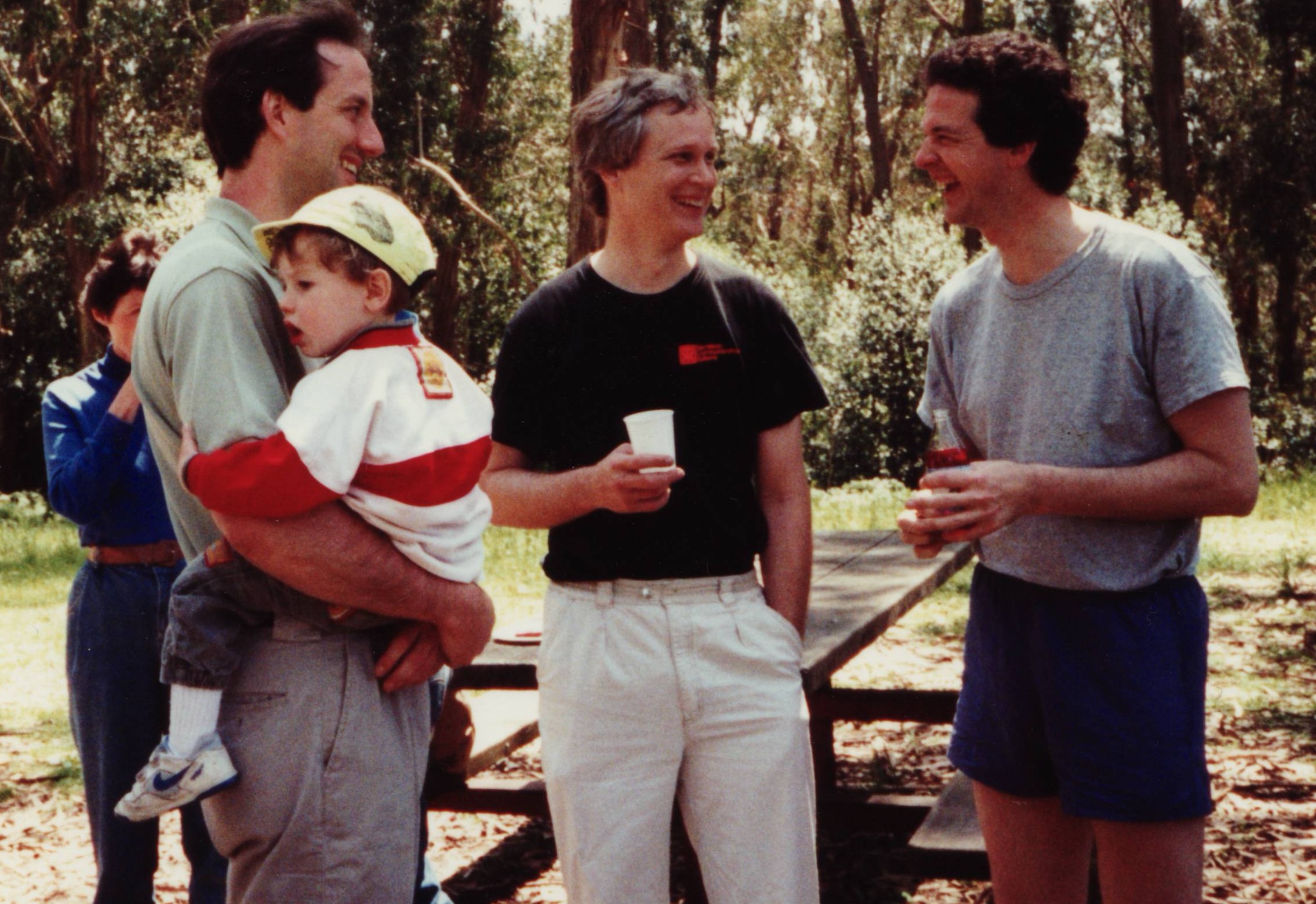 May 1991 - At my fortieth birthday party.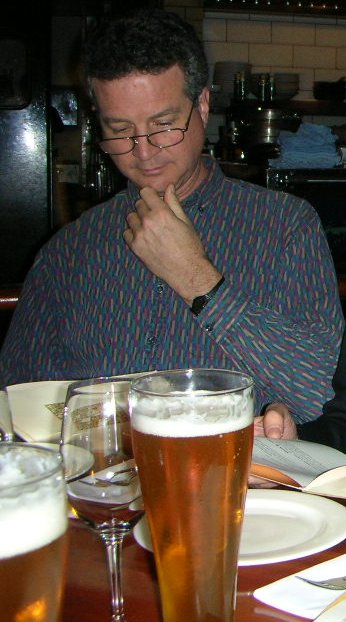 Dec 22 2005 - Cary plots his next move at Boys Night Out.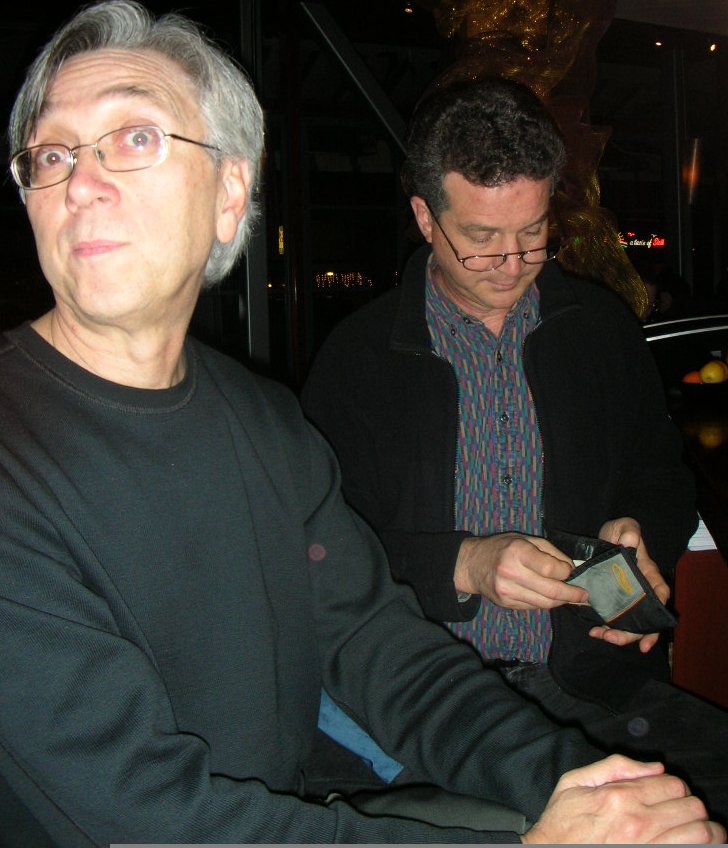 Dec 22 2005 - Oops. Looks like good friend an fellow musician Greg Boudreaux must have left his wallet in his other pants as Cary digs through his.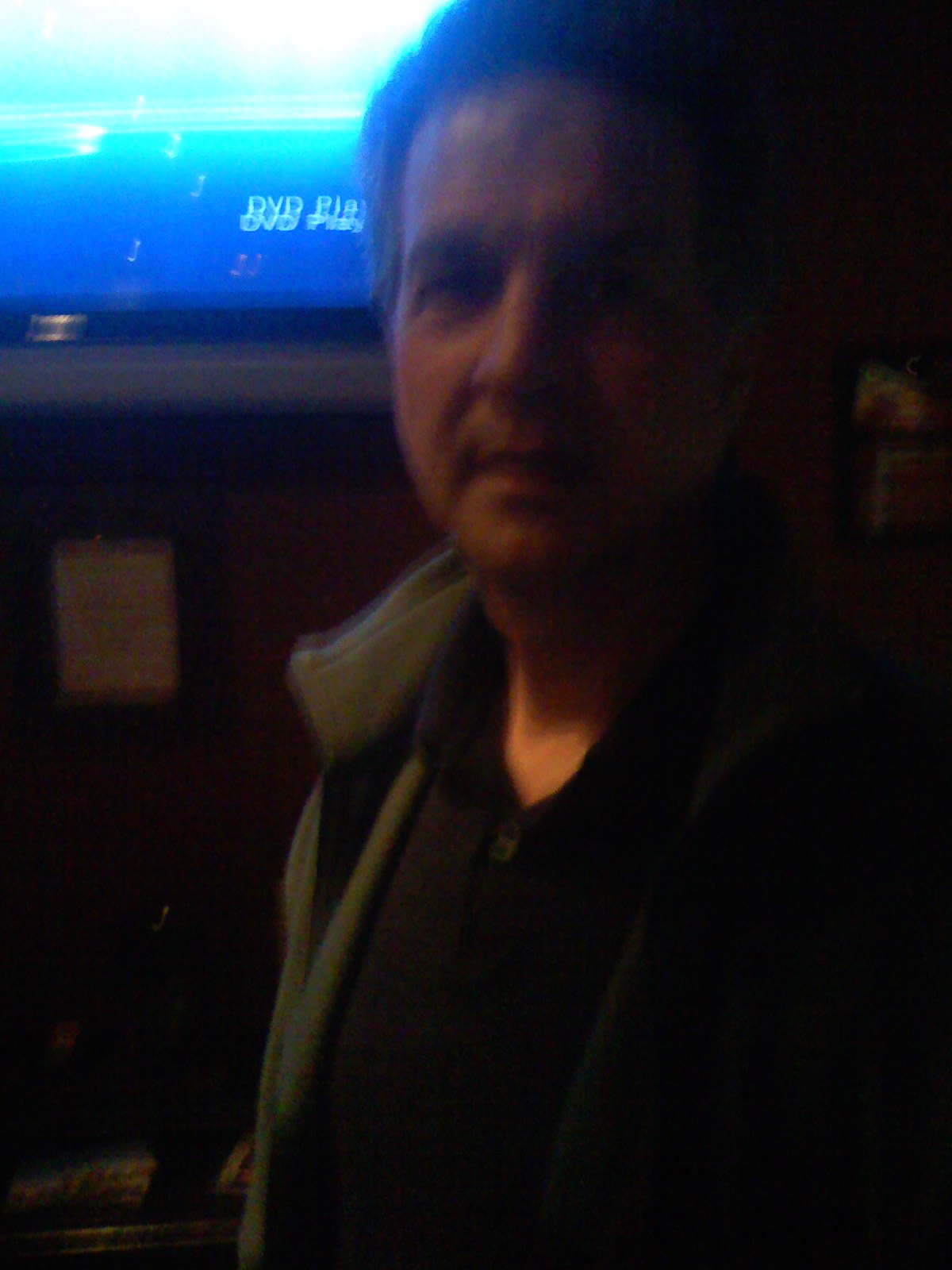 Mar 13 2007 - My last photo of Cary at another BNO.
---
This work is licensed under a Creative Commons Attribution-Noncommercial-NoDerivs 3.0 License.
http://www.BlossomAssociates.net/CaryGriffin/ 2008-09-01